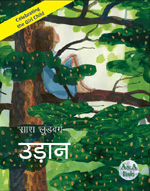 The Bird within Me Takes a Flight
By Sara Lundberg
Hindi Translation: Avanti Devasthale


Berta is a young girl and her childhood is not so smooth with ailing mother who eventually dies. Berta, as she grows is now torn between her duties towards the family and her own dreams. And then comes the decision to leave the shackling thoughts behind and chase her own dreams.

This book from Sweden comes as a powerful statement in our Celebrate the Girl Child series.