17 Apr 2016
Our 13th & 14th Girl Scholars


Angel Tamta joins the AABT family as our new girl scholar. She joins Grade 1, Chirag School. Angel is a shy person but a regular one in the library with her mother and little sister. She enjoys drawing and painting. Welcome Angel, we hope you enjoy learning and growing with us!




Deepa Arya and her two younger sisters have seen a lot for her tender years. But she now joins the AABT family and joins Chirag School nursery. We hope she grows in caring hands and puts the odds behind herself. Deepa takes the number of girls sponsored by us to 14!!


8 Apr 2015
Four New Sponsorship Winners (2015-2022)
Finally... the Girl Child Project announces the winners this year. With four girl scholars selected for schooling support for the period 2015-2022, the number of girl students supported by us touched 12!! We are looking at the glass half filled because we were not able to help all who needed and deserved the support...



Priyanka Nayal has been a student of K V Mukteshwar and is now promoted to Grade 5. Her father is a casual labourer and mother a home-maker. Priyanka is not exactly a bright student but she is good-natured,hard-working and tenacious in her effort. She has been a regular at the library and the activities.



Jiya Pande will be joining Chirag for the next 4 years. She has got admission in Grade 2. Jiya has 3 sisters and a brother. Her father works in the holiday resort and her mother is a housewife. Jiya is a cheerful child, and brainy too!!



Anshika Bhatt has been a student of Govt school but her parents wanted better education for her and she was selected in Chirag for admission in Grade 2. Anshika's father is a casual labourer and mother is a home maker. She also has two siblings to whom she enjoys playing big sis!



Babli Arya is true to her name chirpy and bursting with enthusiasm. She joins Chirag as grade 1 student. She has already been there for her play school. Bubli is a regular in the library and activities. Her father works on adhoc basis with the National Geographic and her mother is a home- maker. Bubli has a younger brother and they live in a joint family.


11 Apr 2014
Four New Girl Scholars (2014-2021)
We are very happy and excited to announce the four girl scholars selected this year for schooling support for the period 2014-2021. This takes the number of girl students supported by us to eight!!


Bright and ever smiling Ritika Negi from Village Satoli joins the Mission Residential School, Jyolikot, with the new schooling session. She joins as a student of Grade 6. Ritika stands out for her eagerness to learn, positive attitude and bubbly enthusiasm to participate in the co-curricular activities. Both her parents have been teachers and she has a younger sister who is an avid reader as well.



She is going to walk 10 kms everyday to go to Kendriya Vidyalaya, Mukteshwar... Bright chirpy girl with many interests, Megha Bisht, now a Grade 6 student, is all set to take up the new challenges!! Megha stays in village Kafli, very close to the reserved forest.



Chetana Pandey, all of 7, is a spunky little girl absolutely clear about what she wants to do! We had doubts if it will be correct to let her walk 10kms+ with her backpack to join the Grade 2 in KV Mukteshwar. The family could send only her brother to the school, ....so now, Chetana jumps at the opportunity to join her brother. She sure loves the world of books!!



Himani Dumka is a friendly girl who dreams of being a teacher when she grows up. She joins Grade 5 in Kendriya Vidyalay, Mukteshwar. She has two young siblings and she lost her father last year. This sponsorship takes care of her entire school education and Himani enjoys the new school very much.



26 Apr 2013
Say Hello to Our Girl Scholars
We are absolutely thrilled to share the news of four girls scholars selected for support!! Imagine, with the recently announced more than 150% fee hike, these girls would be taken out of the school, because their parents don't afford to cope with the raise. We stepped in, just in time and now they are back in school, till their 10th/12th class.



Divya Kapil, now a class 3 student, walks 8-9 kms everyday to go to Kendriya Vidyalaya, Mukteshwar from her village Chhataula. She is truly an all-rounder, and an enthusiastic participant in all the activities and skill building!! Her father grows fruits, and her mother is a home maker. Divya also has a younger sister. Divya loves to play quizzes and dance.



Neha Bisht, studying in grade 8, Kendriya Vidyalaya, Mukteshwar, lives in Sunderkhal, a village in Nainital district. Her father works for the Dairy cooperative. She too was to be withdrawn from the school as a result of the fee hike. Brother was to continue in the school. But now, thanks to Ms Karin Sommer's support, she will be continuing in the school till grade 12. Neha is keen on sports, and has participated in Sprint events.



Bharti Nayal, a student of grade 6, in Kendriya Vidyalay, Mukteshwar walks 9 kms everyday to get to the school. She has a younger sister. Her father is a cook and her mother a home-maker. Due to the recent steep fee hike, Bharati faced the challenge of being taken out of this school and go to Government school instead. But now her problems are a history, and she can chase her dreams of studying to be a professional!!



Pooja Gutholiya is a student of grade 8. Her family too was hit by the fee hike, and it would have been very difficult for her shop keeper father and home maker mother to let her continue with Kendriya Vidyalaya, Mukteshwar. She has a younger brother and both of them dream of studying further in big cities.


8 Apr 2013
Three Cheers for the 3 Girl Scholars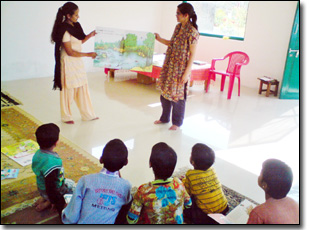 We all know that financial constraints of the family often take toll on the girl child's opportunities of good schooling and growth. Many girls in Shitala region are unable to join good schools in nearby towns being unable to meet the fees and other expenses involved.
We are very pleased to announce that our friends Ms Helen Jamieson and Ms Andrea Ass have announced the sponsorship of a girl child for 7 years schooling — grades 6-12 (2013-19) for a girl child to join the Kendriya Vidyalaya, Mukteshwar. This scholarship is in the memory of Ms Margaret Holmes (Australia) who had travelled to India, and had concern for the economically disadvantaged.
And now we have Ms Karin Sommer and her family joining us with the sponsorship of one more girl scholar. It's thanks to them that we will have second girl scholar joining Kendriya Vidyalaya, Mukteshwar to complete the education from grade 6-12!! We will be selecting the girl scholars in the first quarter of 2013. Please stay tuned to say hello to them!! J
This will be the third scholarship offered by our Trust, with a commitment for 7 years of schooling. Our first Scholar Rohit Bisht is doing well in Grade 6 of Kendriya Vidyalaya, Mukteshwar.
We are very pleased to share with you that our friend and supporter Ms Vidya Vadke has agreed to sponsor a girl child through 2013-19. So that takes the total of girl scholars to 3. This support becomes even more valuable for the child because in April 2013 the Kendra Vidyalaya fees have gone up more than double unexpectedly!!
The selection of scholars is over!! We will be coming back to you with their pictures and details very soon!!


20 Nov 2012
Spreading the Warmth, Diwali 2012

Those of us who have been in Shitala know that the children very much need warm clothings, caps and socks! Onset of winter is an acute pointer to this need. So we appealed to all our young parents-friends to help us with some warm clothes for children, new or in a good condition. It was absolutely god sent that two ladies, Marie Coelho and Caroline Smart, from Goa made a generous, colourful contribution of 30 sets of woollen vests and ccaps knitted by them!! It was so delightful to see children picking up these clothes, trying them on and even posing for us...


14 May 2012
Novel Launch of Three Dutch Picture Books
We had a novel launch of three Dutch picture books Lali aur Uska Ghoda (Yonne Jagtenberg),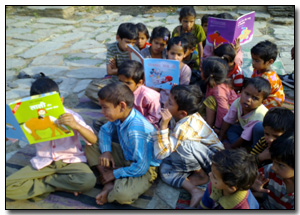 Chitrakaar Ranaji (Leo Timmers), and Chhutku Gadha aur Yaku ka Janamdin (Rindhert Kromhout) in Kendriya Vidyalaya, Mukteshwar. The newly arrived books were distributed among the children a day earlier and the children spoke about them the next day i.e. 14th of May 2012. Ms Poonam Pande, Prinicipal of the school deeply appreciated the spontaneity of the children and expressed the hope that more such activities will be planned around books and reading in school!
In the picture are the children of our new Reading Corner in village Soon near Shitala. This was started with the initiative of Shri Govind Chandra Bisht who didn't want his village children to be deprived of the books, given the distance and the steep climb.


24 January 2012
Norwegian Books to Help Girls in India


NRK (Norwegian Broadcasting Corporation) just published an article on the World Girl-Child Picture Books Project titled "Norwegian books to help girls in India." Originally published in Norwegian (Click here for the English version), it's to our eyes a very thorough and good article, with among other things the author Tyra Tronstad stating that they are thrilled to be part of the project. "Heroes in the Norwegian children's books to help Indian girls to achieve their dreams — an honour for us to be chosen," says Tyra Tronstad, author of some of the Norwegian books translated and published in Hindi by A&A Book Trust. All reasons to be happy about this!


1 January 2012
Star Readers of the Year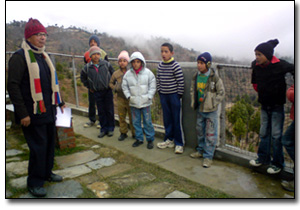 We had a novel way of ringing in the New Year. On very the first day of this New Year, we had a small function outside our library for the 'Star Readers of the year'. Tracing the books borrowed, and some pattern of growth in the reading abilities, the star readers were identified and honoured with prize books proportionate to books read during 2010-11. It was terribly chilly morning. Every child who came went home with a book of their own choice apart from the toffees of course! We will make this even more attractive and meaningful in the years to come.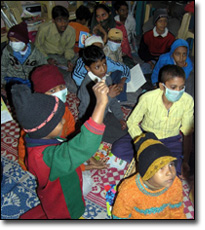 12 December 2011
Pippi Longstrump for CanSupport
Pippi Longstrump joined our girl child special project in a very special way On December 12, 2011!! We welcomed the two utterly delightful picture books Pippi Lambe Moje and Pippi Pahunchi Park Mein in both Hindi and English amidst the children of CanSupport at the RK Puram centre, New Delhi. The books were launched by H E Lars Olof Lindgren, Ambassador of Sweden. The children enjoyed getting to know Pippi and her pranks. We also donated more than 100 books to CanSupport library which is in making!!