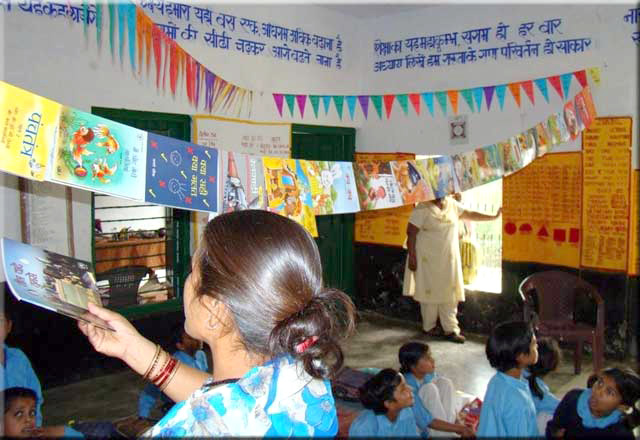 Books Have the Power to Change Lives

Can you really imagine your life, especially childhood without books?

Even we can't, so we set up Reading Corners!!

What is a Reading Corner?

A Reading Corner is the first basic library in the village primary school which has no access to a library or a bookshop. In many village families, the children are the first generation learners, affording education only because it's free. The Reading Corner has a selection of age-appropriate, attractive books, carefully selected to initiate the children into enjoying books. Promising a lot of shared fun, the Reading Corner is the rural child's window to the world, widening the mental horizon.

Our Reading Corner kit comprises:



In 2009-10, we started with Reading Corners set up in 112 primary schools, mainly in Uttarakhand. The number went up to 128 schools looked after by Chirag, an NGO working for decades for development of the region, 25 Sandhya Kendras and 35 libraries started by USNPSS, an NGO in Almorah to engage children in fruitful activities after school, and some schools associated by Pahar ( Nainital) and Arohi school, Satkhol. Due to the apathy of the state government we stopped our book donations to 26 Kasturba Gandhi Kanya Vidyalayas which offer hostel facilities for girls coming from rural areas.

The villages are hungry for books, we had started with a set of 100 books in 2009 and we need to keep the library growing and renewed with fresh books so we make sure to add 100 books to the collection every year. In 2012 we added a set of two classroom maps to these sets: the map of India and the world map. The trust publishes books from different countries and cultures to give the children to give the children a glimpse of the plurality and widen their horizon.

It's not enough just to donate the books, our team holds orientation sessions on how to use these for the teachers/librarians in charge. Having excelled the target, and seeing the boundless enthusiasm of children availing the library facilities, we pledge to ensure that they get new books to read every year,progressively broadening their horizons. We plan organising book related events, hands on skill building activities and story-telling/author's visits to these schools.

We'll also interact with the village community so that the parents and grandparents understand the importance of the Reading Corner. We have a step-by-step plan to add new books to the Reading Corners for the years to come, and before we know, each of these villages will have a small library of its own, for the children as well as the adults!


What can you do to join us in our effort?


Friends, this is all about doing our own bit! The children in villages are hungry for books. You can see this in the pictures on our website. You can also see it for yourself if you plan a visit / travel with us to the schools.

Imagine, as little as €65 or US $100 is enough to set up a Reading Corner in a village school, which will gives a chance to children to read and enter the enriching world of books, and change their lives. One reading corner touches lives of at least 300-350 families.

If you believe in the power of books like we do, please help us set up a Reading Corner in a school of your choice, in India. In case you have no particular school in mind, we will identify one for you. We will make sure that you get some pictures of the Reading Corner, and the children enjoying reading and also share the feedback from the school.

Give us a month in your life, staying at Shitala! There's so much to do. If you are a specialist, you can employ the skills for empowering the teachers, broadening their vision and professional skills. Be on our expert's and volunteers panel, and help us hold workshops for teachers/students sharing your skills. If you have the inclination we will create a role for you.